As fans of off-beat holidays like May the Fourth, Shark Week, or National Pizza Day, we couldn't help but get excited when we heard about the new Barbie movie. So, we asked Breckenridge Distillery's Liquid Chef Billie Keithley to whip up some Barbie-inspired cocktails for the release.
Make these 5 Barbie-approved cocktails at home to bring some pink to your drinks.
The Flamingo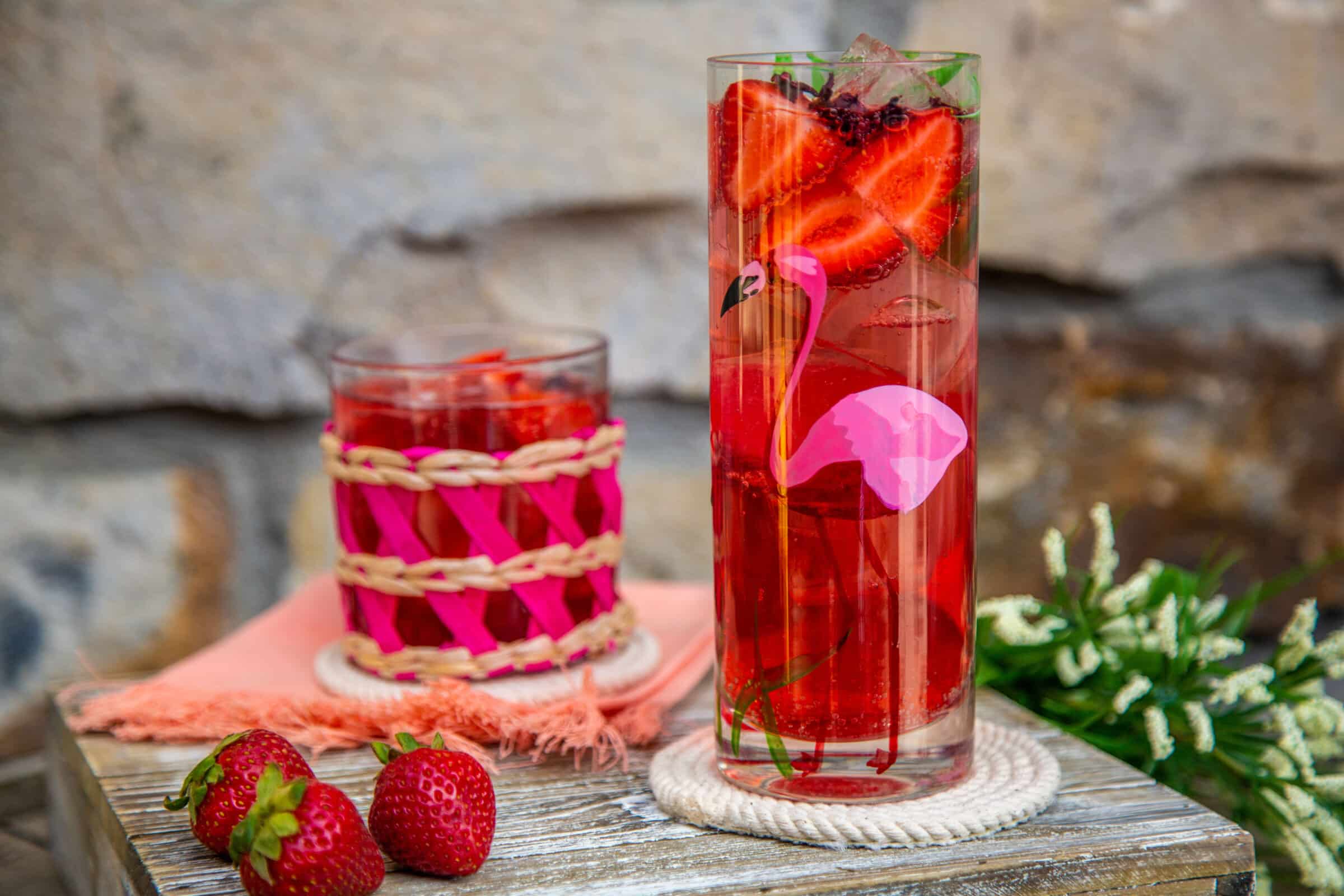 The Flamingo
1-1/2 oz Breckenridge Vodka (Buy Now)
1 oz strawberry & hibiscus simple syrup*
Fever Tree sparkling grapefruit
Add all ingredients over ice. Stir gently.
Garnish: strawberries
*Strawberry & hibiscus simple syrup: over low-medium heat add 16 oz fresh strawberries, 3 tablespoons dried hibiscus, 2 cup water, 1/2 cup raw sugar and 1/2 cup monk fruit sweetener. While heating, muddle and then let it simmer for 10 minutes. Let cool and strain.
The Girl from Malibu
The Girl From Malibu
1 oz banana rum
1 oz muddled strawberries
1 oz fresh lime
1 oz demerara simple syrup*
Shake and double strain into coupe.
Garnish: strawberry
*Demerara simple syrup: over low-medium heat, add 1 cup water and 1 cup demerara sugar. Stir until dissolved.
Prickly & Pink
Prickly & Pink
1 oz Breckenridge Pear Vodka (Buy Now)
1 oz lemon juice
1 oz pomegranate tea
2 oz Perfect Puree's Prickly Pear (thawed)
Shake all ingredients with ice. Strain and serve over pebble ice.
Garnish: dragon fruit
Frozé All Day
Frozé All Day
1/2 oz Breckenridge Gin (Buy Now)
8 oz frozen Rosé
Combine ingredients into glass. Lightly incorporate.
Garnish: rose buds
Watermelon & Bubbles
Watermelon & Bubbles
1 oz Breckenridge Vodka (Buy Now)
1-1/2 oz watermelon/basil/white pepper simple syrup*
½ oz fresh lime juice
Soda
Garnish: watermelon ball
Build in glass top three ingredients. Add ice and top with soda. Slightly stir to incorporate.
*Watermelon simple syrup: over medium heat add 1 cup watermelon juiced, 4 oz monk fruit sweetener, 4 basil leaves, and 1/2 tsp white peppercorn. Muddle gently and stir until sweetener is dissolved. Let cool, strain and refrigerate.
Get Breckenridge Spirits delivered to your door.
Please Après Responsibly.