Written by Katie Coakley
There are some partnerships that are so perfect that they've become instilled in our culture: Batman and Robin; Thelma and Louise; Woody and Buzz; Snoop and Martha. The newest, inevitable collaboration is debuting in Breckenridge, CO with the release of Buddy Pass from Breckenridge Brewery and Breckenridge Distillery. A barrel-exchange program between the brewery and distillery, Buddy Pass is both an Imperial Oatmeal Stout and Imperial Stout Cask Finish Whiskey that blends the best of these award-winning brands.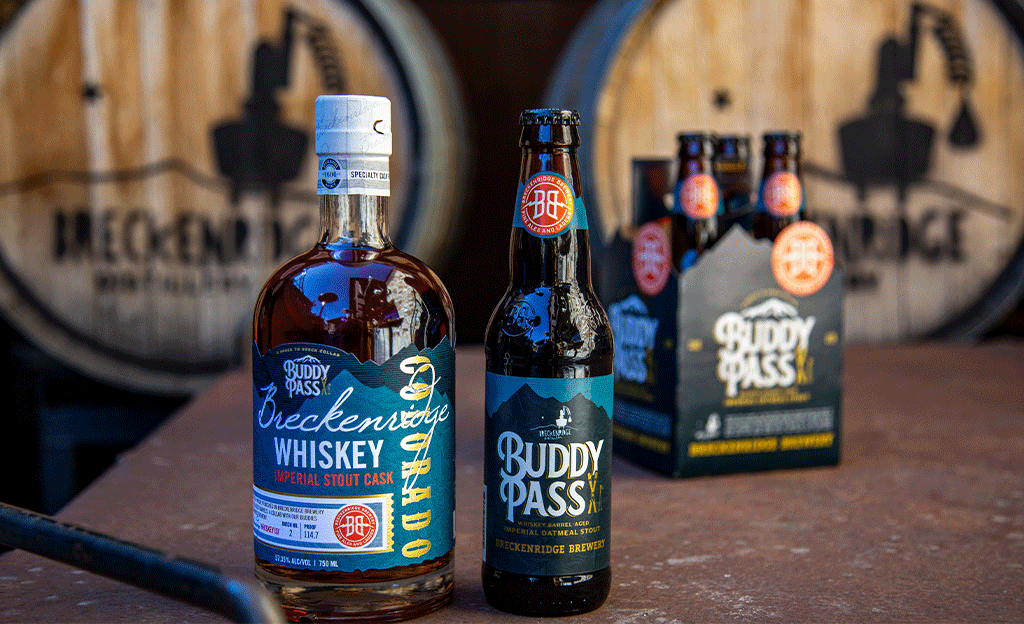 Buddy Pass is now available in 10 States: AZ, CA, CT, DC, FL, IL, MD, NJ, NY, TX. 
"We're both Breckenridge companies that commonly get mistaken for each other," said Hans Stafsholt, Head Distiller at Breckenridge Distillery. "So not only are we long-time friends, but it just made sense to stir the pot a bit more."
Buddy Pass is both potent potables produced: Here's how it works. Breckenridge Brewery brewed an Imperial Oatmeal Stout at its original Breckenridge Brewery location. A tribute to the first beer ever brewed there, it was then aged in Breckenridge Distillery Bourbon barrels from just down the road—approximately 3 miles, to be exact. When the beer is sufficiently aged, imbued with flavors from the barrels, it's taken from the barrels and returned to stainless steel containers. Those freshly dumped barrels are taken back to Breckenridge Distillery and filled with its award-winning whiskey to age again for 10-13 months. The subsequent spirits and suds are a perfect marriage between the two craft companies that both beer and whiskey lovers alike will enjoy.
Video: Batch 1 of Buddy Pass
Though there is a range of barrel-aged beers on the market, there are far fewer beer-aged whiskies. Buddy Pass might be the only collaboration that allows imbibers to sample both the barrel-aged beer and the beer-aged whisky at one time.
"There's a reason that it's rare to find these types of beer/whisky collaborations," said Stafsholt. "There's a limited window of time from when the beer is removed and the whiskey should be added. As time passes, undesirable flavors start to develop in the barrels."
Many barrel-aging projects involve a brewer visiting a barrel broker and purchasing barrels that may have sat empty for months or longer. These barrels can have problems (like leaking) and the barrel character imparted to the beer is often reduced. With Breckenridge Distillery located just a few miles away, Breckenridge brewers can pick up these barrels and fill them with beer on the same day they're emptied of whiskey. The high strength of the bourbon preserves the barrel and prevents harmful microbes growing that could infect the beer; this short window between steps also allows for a maximum level of barrel character imparted to the beer.
Breckenridge Brewery's Barrel-Aged Imperial Oatmeal Stout is a quintessential "big beer." With a velvety mouthfeel, this beer is meant to be sipped, not slammed. The Imperial Oatmeal Stout imparts notes of dark chocolate covered cherries, espresso and toffee; its time in the Breckenridge Bourbon barrels imparts hints of caramel sweetness that take it to the next level. As a result, Buddy Pass is a bold, boozy brew that is meant to be shared.
After the beer has been imbued with hints of caramel sweetness from Breckenridge Distillery's high-rye bourbon barrels, the Distillery picks up and re-fills the barrels the same day. Time is even more important during this step: The lower ABV of the beer does not have the same preservative properties as whiskey and microbes could quickly proliferate, especially in the presence of oxygen. The barrels are then filled with whiskey (again), which then ages and showcases notes from the Imperial Oatmeal Stout that was within. The resulting spirit is dark and sultry: cinnamon and oak envelop the nose with a light background of fresh orange zest and chocolate. Smooth abundant caramel and dark chocolate hit the palate first as a dry matured oak and bold cinnamon spice follow and ride out for a long dry, spicy finish – think whiskey by the fire after a day on the slopes.
Buddy Pass beer and whiskey will be released at the same time, allowing fans of both brands to try the two simultaneously if desired and compare the results. And for buddies that are more beer-focused or whiskey-focused, it's a great way to get together (each with his or her own preference) and cheers an epic day.
"This is a true Breck to Breck partnership," said Jimmy Walker, Head Innovations Brewer at Breckenridge Brewery. "We're two like-minded companies that love to bring people together for moments that become memories. Plus, we're buddies. Buddy Pass is an expression of our friendship as well an ode to the mountain's buddy passes and the friendships toasted after an epic day. It's truly a collaboration at its peak."
Both Walker and Stafsholt have lived in Breckenridge for many years. As brewers and distillers often run in the same circles, the two met and quickly became buddies. It's this friendship, and the spirit of community in this small mountain town, that made Buddy Pass the perfect name. Like the ski passes that you can share with friends to enjoy a powder day, this Buddy Pass can also be shared during après ski when you're home by the fire or in the hot tub.
Buddy Pass Batch Two will be released on October 24, 2022: Breckenridge Brewery will debut the Barrel-Aged Imperial Oatmeal Stout and Breckenridge Distillery will release the Imperial Stout Cask Finish Whiskey, available nationally.
"This is not a collectors' item that you trade and share," said Walker. "It's something that you have to pick up and enjoy with a friend—a true buddy experience."
Batch Two Tasting Notes: Cinnamon and Oak envelop the nose with a light background of fresh orange zest and chocolate. Smooth abundant caramel and dark chocolate hit the palate first as a dry matured oak and bold cinnamon spice follow and ride out for a long dry, spicy finish.
Photos by Eric Benner and Bucked Creative
Shop your local retailers for Batch Two – available nationally starting October 24th. Share with a buddy.